Building the future brand & platform for packaging
PakFactory will digitize a significant portion of the packaging industry. We will become the world's packaging platform connecting customers with partners, serving as a central hub of global packaging commerce that fulfills millions of customers' needs in a fully-managed experience.
Learn More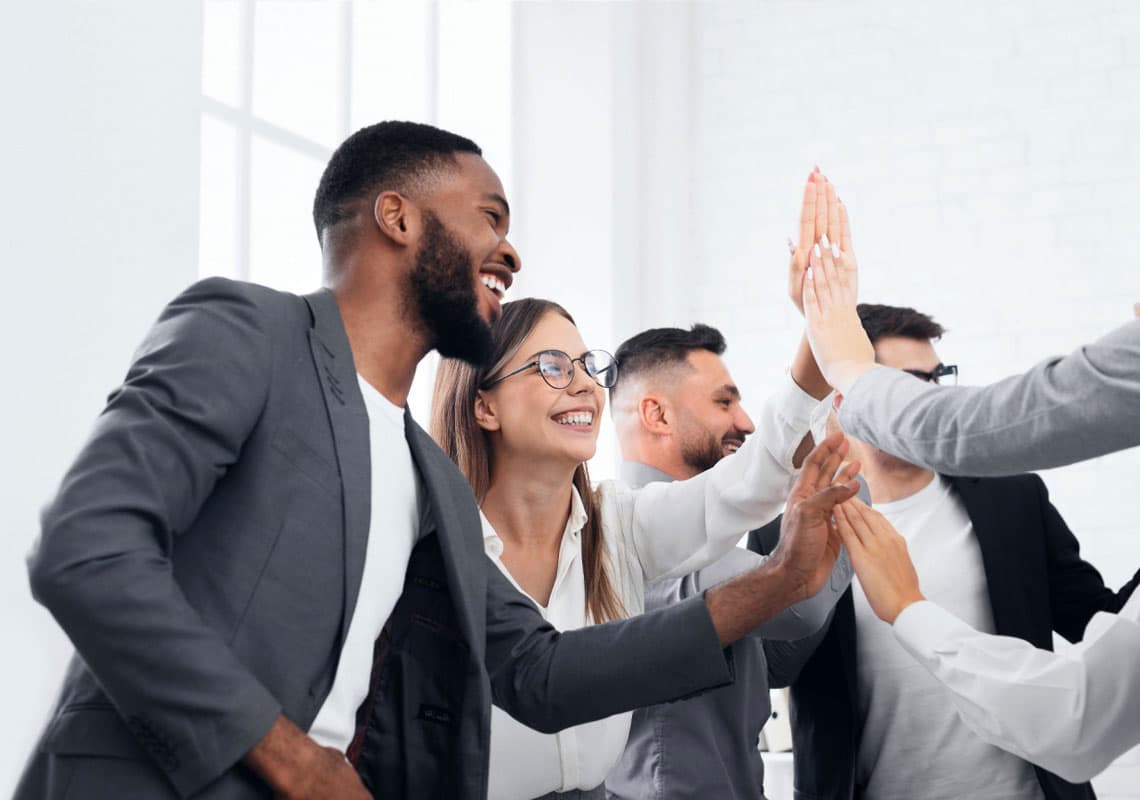 Life at PakFactory
Take part of an exciting opportunity to reshape the packaging industry with PakFactory. Do interesting, meaningful work for a constantly growing company that's set to achieve something big. Work with an amazing group of individuals everyday and reach your goals with learning opportunities and support from some of the industry's best.
View Open Positions
Fast Growing Company
We are at an infection point to reach accelerated success!
Great colleagues
Closely tied and supportive team. We are always here for you!
Team Collaboration
Team collaboration based culture to help problem solve
Don't stop learning
An atmosphere where learning is always on the to-do list.
PERKS
What's in it for you?
We are here to make an impact on people's lives, by providing them better work life balance. Helping improve people's experience of working together is one of PakFactory's priorities.
Remuneration
We value the hard work from our employees, which result in quarterly review and compensation.
Flexibility
Enjoy the ability to take personal and vacation time when needed with advanced approval.
Development
We deeply care about self improvement, which is why we focus on supporting your career journey.
Stock Options
Get a chance to become part ownership by having access to purchasing stock share options.
Benefits
Enjoy full coverage on medical, dental and vision benefit coverage for you and your family.
Happier Weekdays
Get to know your team better through weekly catered lunch and breakfast, and occasional game nights.
OPPORTUNITIES
Current Open Positions
At PakFactory, we are reshaping the packaging experience. From how packaging is interpreted, quoted, to where your packaging is made and how it gets to you. Our efforts are changing what it means to get packaging done efficiently and effectively. To accomplish this, we have gathered a talented and determined team of ambitious problem solvers to build what we believe to be — the future of packaging.
Join our team to take a major step towards your career and making a difference together.
About you
You have proven experience as a Full Stack Developer or similar role, developing web applications
Have a degree in Computer Science, Computer Engineering or related field
Knowledgeable in multiple front-end and back-end coding languages such as HTML, CSS, Javascript and frameworks (Angular, React, Node.js), XML, jQuery, Python
You are familiar with databases such as MySQL, MongoDB, Apache and more
You are able to make technical requirements into functional products that work
Can ensure the highest technology standards and best practices are followed
Great teamwork and communication skills
Responsibilities
Work with a Product Manager and development teams to create software solutions
Design client-side and server-side architecture and the front-end of applications based on provided designs
Develop and manage efficient and secure databases and applications
Write and implement effective APIs as needed
Test and troubleshoot software to debug and ensure software responsiveness and efficiency
Create security and data protection measures
Build web pages and applications with mobile responsive designs
Prepare technical documentation
Apply by sending your resume to hr@pakfactory.com
Technical Sales Specialist
About you
You are hungry for personal and financial growth
More than 2 years of sales experience as a sales representative or account manager
Excellent written and verbal communication skills and negotiation abilities with a strong command of the English language
B2B and B2C key account management history
You have superior organization and time management
Have a passion for growth, development and advancement both in your career and personal life
Able to provide the highest level of customer service while meeting ambitious sales targets
Responsibilities
Build relationships with key accounts and maintain strong, long-lasting customer relationships by providing the highest level of customer service
Provide insightful and valuable solutions to customers based on their needs and business goals
Communicate with internal and external teams to build project requirements, get quotations and manage packaging production
Meet and contribute to ambitious individual and team sales goals
Apply by sending your resume to hr@pakfactory.com
Digital Marketing Specialist
About you
You are an experienced digital marketer with excellent communication skills and proven ability to grow a company's customer and follower base with experience in B2B and B2C business models
Have a degree in marketing or related field
You have exceptional writing, editing and interpersonal communication skills
More than 3 years of experience in SEM, SEO, content marketing, referral marketing, blogging, link-building and social media management with proven, demonstrable results
Have thorough knowledge of web analytics and marketing tools, not limited to Google Analytics, Google Search Console, SEMrush, BuzzSumo
Responsibilities
Research customer needs, demands and requirements for all web pages
Develop strategic marketing campaigns for engagement and new customers
Create sales and marketing automation initiatives through CRM and Email marketing channels
Assist in the conceptualization and implementation of content plans
Collaborate & build long lasting relationships with industry professionals, journalists, publishers etc.
Provide guidance on new techniques, process and management to improve traffic and conversions for both desktop and mobile use
Maximize traffic and conversions through core digital marketing tactics such as email, Paid Social & Search, SEO, Blogging, Outreach and Social Media
Apply by sending your resume to hr@pakfactory.com
About you
You are passionate about design, customer experience and have a keen eye for effective trends and design improvement opportunities
Have a degree and a minimum of 2 years of UI/UX design experience You keep a portfolio of design work
Familiarity with the following technologies and software: Sketch, InVision, Visio, HTML, CSS (SCSS), Figma and Adobe Creative Suite
You are a team player and able to work independently as well
Excellent written, verbal and visual communication skills
You are able to prioritize tasks, take constructive criticism and manage time and goals effectively
Responsibilities
You will ensure that all aspects of the online user experience are optimized to improve usability, usefulness, and provide class-leading visual design
Work with the Product Manager to develop and conceptualize a comprehensive UI/UX design strategy
Produce wireframes, flow diagrams, storyboards, customer journeys and visual graphics
Design UI elements and tools such as navigation menus, CTA forms, tabs, and widgets
Collaborate with the marketing team and designers to create tailored experiences for our users.
Implement UX research methodologies and surveying activities in order to analyze and predict user behavior
Ensure uniformity to style standards on typography and graphic design
Apply by sending your resume to hr@pakfactory.com
Open For Discussion
As a people business, we recognize that exceptional leadership drives exponential growth. We enjoy discussing ideas and building relationships with experienced and proven leaders keeping key role opportunities open to pursue a shared vision and future.
As the Technology Officer for PakFactory, you will be leading a high level of talent to grow the leading platform for packaging globally. We understand that technology drives our competitiveness, efficiency and effectiveness, bringing value to both our customers and our business partners. We want you to be the "change agent" to help shape and define the next big thing at PakFactory. Think you have what it takes? We want to hear from you. Give us a shout today!
We are searching for a dynamic, passionate and motivated Financial Officer with an insatiable determination to manage our company's financial planning, budgeting and expand our opportunities through capital expenditures, acquisitions or divestitures. Work with our CEO and management team to drive our strategic direction and grow our funding opportunities to secure our place in history. Contact us today and let's grow our vision together.
With more than 5 years of sales leadership experience as a sales executive, you are motivating and demanding in not only yourself but your team. Distinguished in exceeding and setting new standards in sales targets, your excellent negotiation and communication abilities paired with superior organization and time management makes you wolf-like, hungry for career progression, personal growth and development of your team. If this sounds like you, get in touch with us today.
Self motivated and perceptive, you have the passion and product vision for realizing improvement and introduction of new and existing products and services. With more than 5 years of product experience, you harness the ability to understand and decipher the technical architecture of complex and scalable web applications. Experienced in Agile development practices, Scrum methodologies and proven leadership and communication skills, you may be the Product Manager we are looking to lead our talented product development team. Apply today!
You are a digital marketing guru, looking for an exclusive opportunity to put your experience, skills and knowledge to grow an established brand and platform. Possessing a passion for content creation and distribution with excellent communication skills, you have the proven ability to grow a company's customer and follower base with experience in B2B and B2C models with experience building multi-channel campaigns with demonstrable results. If this sounds like you, then get in touch with our marketing team.