Cardboard Display Banner Stands 2
Artwork Preparation Guide
If your artwork files do not meet our specifications, PakFactory is not responsible for any printing errors that can arise as a result. Read our Artwork Preparation Guide on how to prepare your files for submission or Contact Us to have a packaging specialist help!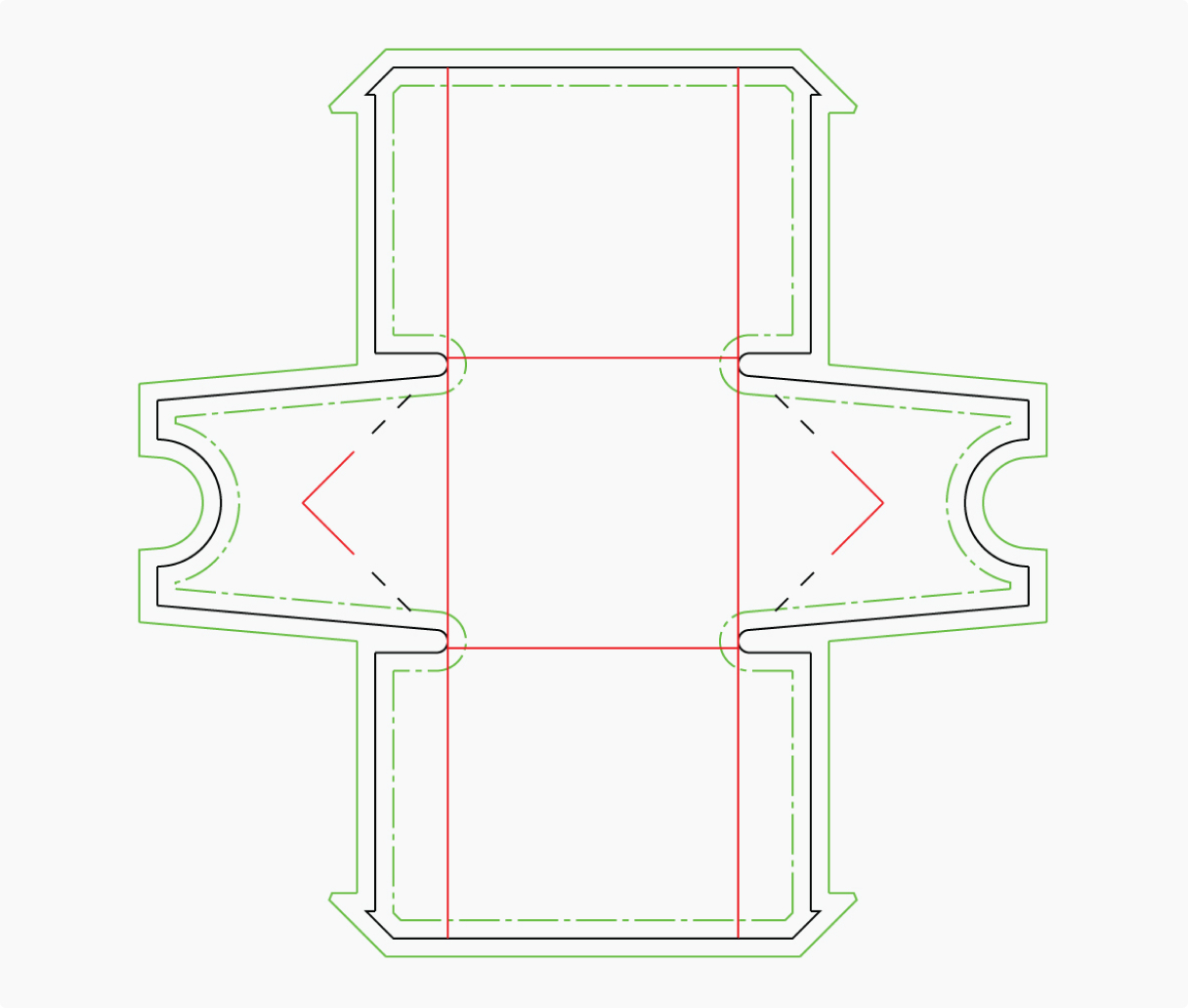 Cut Line (Black Lines):
Indicates the cut at its final size. Important artwork and text should be placed at least 0.125 inches inside of the cut line.

Crease Line (Red Lines):
Indicates where the product is to be folded.

Bleed Line (Green Lines):
Indicates where the bleed line is located. Any artwork which goes to the cut line should be extended to the bleed line to get a seamless print.

Safety Margin(Dotted Green Lines):
Indicates where artwork and text should safely be placed inside. As an industry standard, all artwork should at least be placed 0.125 inches away from the cut line unless your design is intentional.

Perforation (Dotted Black Lines):
Perforation line refers to paper that is punched with very small holes to allow the paper to be torn and folded easily.
Please do not change the dimensions and orientation of our dieline templates as this may ultimately delay your orders. Our dielines have been specifically calibrated to be compatible with our production systems.
Our Ordering Process
Looking for custom packaging? Make it a breeze by following our four easy steps - soon you'll be on your way to meeting all your packaging needs!
Customize your packaging
Choose from our vast selection of packaging solutions and customize it with our wide range of options to create your dream packaging.
Add to quote and submit
After customizing your packaging, simply add it to quote and submit quotation to be reviewed by one of our packaging specialists.
Consult with our expert
Get expert consultation on your quotation to to save on costs, streamline efficiency and reduce environmental impacts.
Production & shipping
Once everything is ready for production, have us manage your entire production and shipping! Just sit and wait for your order!