Key Features:
Roll end tuck top boxes do not require gluing, and are ideal for storage and shipping.
Easily assembled via folding; no glueing required.
Sides include three layers of corrugated material, for added strength and protection.
Top of the line custom printing and custom sizing
Optional: Window patching, cut out, locks, and more
All of PakFactory boxes are fully customizable in size and design
The roll end tuck top box is a very durable and sturdy style of corrugated box. They are well known and ideal for shipping and storage uses, because of their extreme durability against damage. The triple layer of corrugated cardboard on the side panels are there to ensure that the box displays very high structural integrity against wear and tear. The top displays a closure that tucks to the inside of the box.
The corrugated roll end tuck front box is well known for shipping, because of its extreme sturdiness. They can withstand harsh treatment in the process of shipping, and on route during long voyages. This style can also be used for product shelf display purposes. The breadth of products that can be shipped in the roll end tuck front box is endless, and the uses are extremely versatile. More common retail uses include packaging for coffee products, tea packaging, bulk product packaging, and health care product packaging.
The assembly process for the roll end tuck front box is extremely simple and fast. This style packages flat, and can be assembled manually without the use of glue, tape, or staples. The self-locking design and closure can be manually assembled in seconds. Designing opportunities for the roll end tuck front box are similar to other corrugated boxes. The graphic component is completely customizable at your discretion, as well as the custom sizing options. Window patching, window cutting, and other customizable options may also be available for corrugated boxes.
Materials & Options Guide
If you're not familiar with the materials and options offered to you here, you may consult our detailed Materials & Options Library to get a better understanding of all the materials and options that are being offered to you. For additional questions regarding materials and options or you are looking for something that we currently don't carry, you may Contact Us to speak with a product specialist.
Specification Table
ITEM
DETAILS
Material Options
B Flute Kraft / C Flute Kraft / E Flute White / F Flute White (Available in both White & Kraft)
For more material options, please Contact Us for a custom quote.
Print Options
Offset Printing (CMYK 1 sided front / CMYK 2 sided)
Up to 4 PMS Colors (Optional)
Special Finishes
AQ (Semi-gloss) / Gloss Varnish / Matte Varnish / Gloss Lamination / Matte Lamination / Soft Touch
Spot UV + Matte Varnish / Spot UV + Matte Lamination
Default Process
Gluing / Die Cutting (Partial Cut, Full Cut, and Score)
Optional Process
Additional Cut Out / Debossing / Embossing / Foil Stamping / Perforation / Window Patching
Sample & Prototyping
Dieline & Digital Artwork CTP Proof
Digital 3D Sample (Optional)
No Print Plain Sample (Optional)
Digital Print Sample (Optional)
Production Sample (Optional)

Please Note: All submitted artwork will go through a stringent Dieline & Digital Artwork Proof by our production specialists.
For more information on other Sample & Prototyping options please visit here.
Shipping
Ships flat in box.
Email notification with tracking information.
Production Lead Time
10 - 25 business days. Production time is subject to change based on order size.
For rush orders, please Contact Us for details.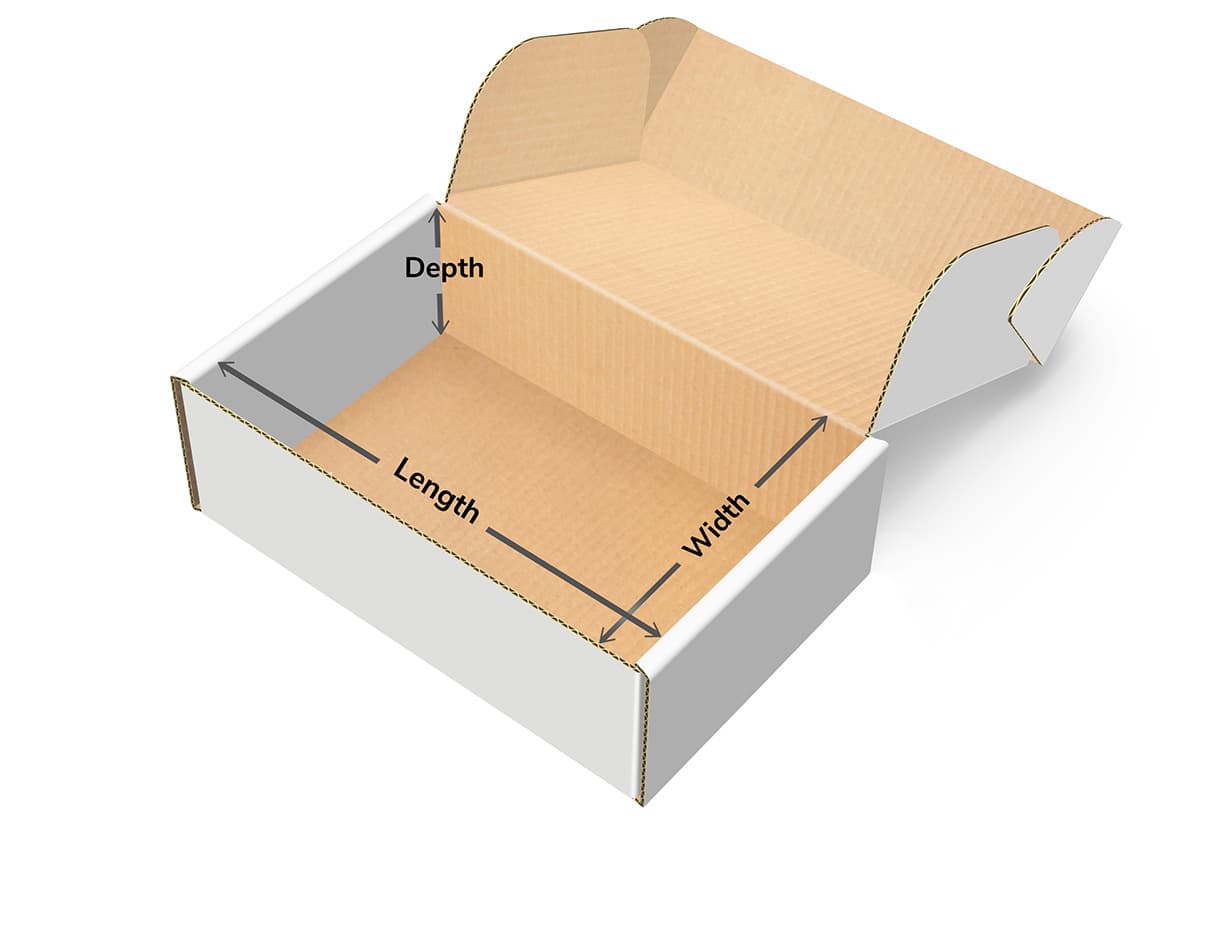 How to Measure Dimensions of a Box
The industry standard measurement refers to the internal dimensions of the box. The internal dimensions play a crucial role in ensuring the products will fit into the corrugated box seamlessly. To avoid ill fitting packaging, please keep in mind that any measurements requested or provided relate to the internal dimensions.
Length: The longest opening dimension
Width: The shorter opening dimension
Depth (Height): The side perpendicular to the length and width.
Artwork Preparation Guide
If your artwork files do not meet our specifications, PakFactory is not responsible for any printing errors that can arise as a result. Read our Digital Corrugated Artwork Preparation Guide on how to prepare your files for submission or Contact Us to have a packaging specialist help!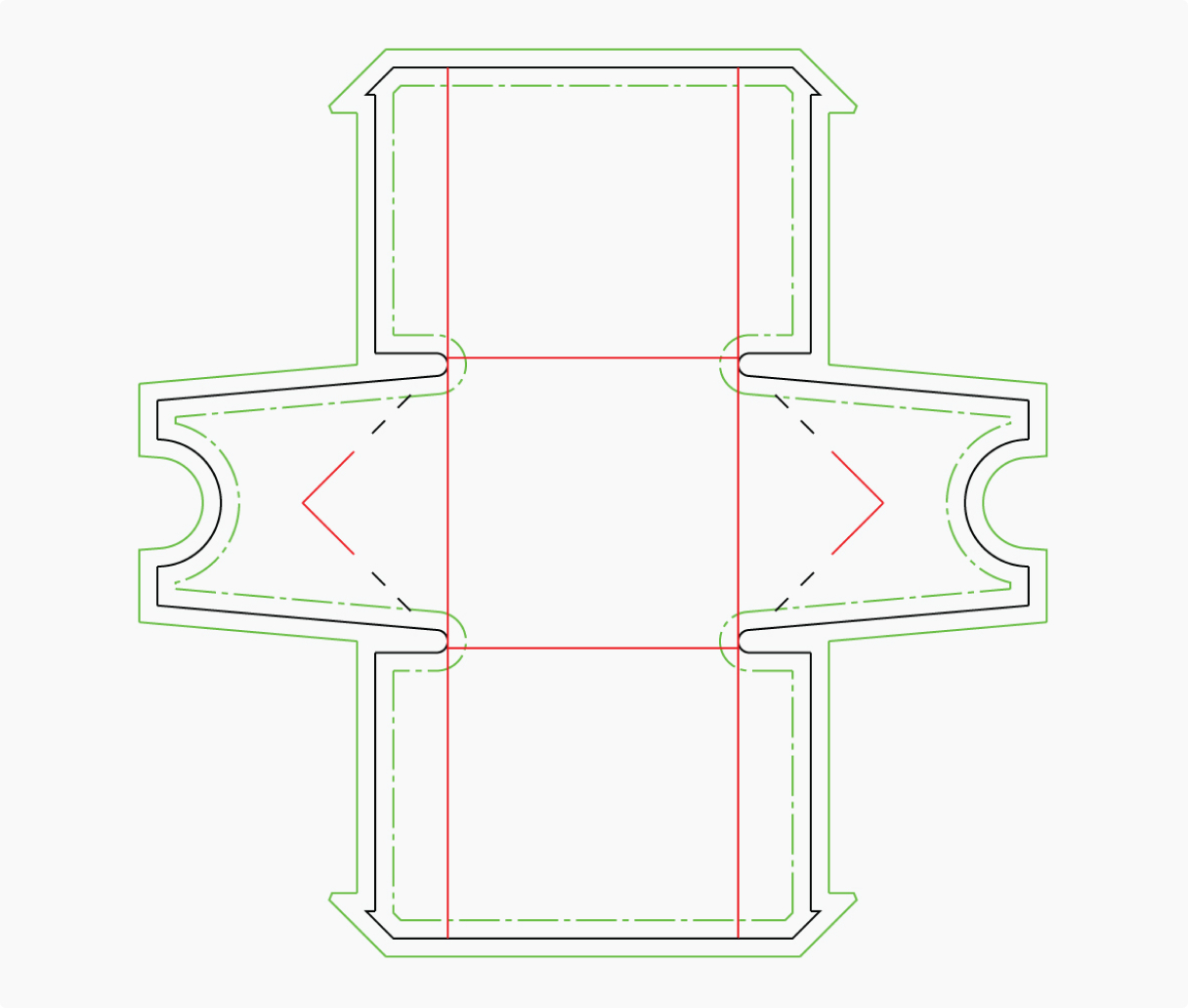 Cut Line (Black Lines):
Indicates the cut at its final size. Important artwork and text should be placed at least 0.125 inches inside of the cut line.

Crease Line (Red Lines):
Indicates where the product is to be folded.

Bleed Line (Green Lines):
Indicates where the bleed line is located. Any artwork which goes to the cut line should be extended to the bleed line to get a seamless print.

Safety Margin(Dotted Green Lines):
Indicates where artwork and text should safely be placed inside. As an industry standard, all artwork should at least be placed 0.125 inches away from the cut line unless your design is intentional.

Perforation (Dotted Black Lines):
Perforation line refers to paper that is punched with very small holes to allow the paper to be torn and folded easily.
Please do not change the dimensions and orientation of our dieline templates as this may ultimately delay your orders. Our dielines have been specifically calibrated to be compatible with our production systems.
Choose Your Product
Browse our curated library of custom boxes, packaging, and other custom printed products and put together a list of products that would work for your project. Remember to bookmark your favorite products or add them to your Add to Quote Cart along with all your dimensions and custom options to keep track of what you are interested in. Once you have made your choices, you can send in your quote request to get started with your packaging journey. Alternatively, if you are looking for something that you can't find in our library, you can visit our Request a Quote page and send in a custom quotation.
Request a Quote
Once you have sent your quote request through our Add to Quote Cart or Request a Quote page with all your product specifications, our product specialists will get started on preparing your quote. Simple quotes can be ready and sent back to you in as little as 1-2 business days. For more complicated projects that require custom structural or material sourcing may take longer. Your dedicated product specialist will reach out to you to keep you connected throughout the entire packaging process.
Place Your Order
Once you have received your quotation from our product specialist, please review it to make sure all details for your quotation are correct. For additional questions regarding your quotation, you can always speak with your product specialist for more information. When you are satisfied with your quotation and are ready to proceed, pay using our secure payment portal, which our product specialists will provide. Once your order is placed, our structural designers will promptly prepare your custom dielines!
Get Your Custom Dielines
Once your order has been placed, a dieline or artwork template file will be required for your artwork placement. For simple dielines, our structural designers can prepare your file within 1-2 business days. However, more complicated structures will require additional time and may require a design fee. Most of our custom dieline files contain structural information which allows us to prepare a 3D digital mockup of your packaging once you have placed your artwork onto the file. This allows you to preview your packaging prior to mass production to make necessary changes or corrections.
Prepare Your Artwork Designs
Get your creative juices going because you are now ready to start designing your artwork on our custom dielines. Be sure to follow the artwork guidelines on our General Artwork Guide to mitigate any issues when going into mass production. When your artwork is completed, upload your updated file to your product specialist. Our specialized artwork designers will proof your artwork and prepare a 3D digital mockup of your packaging for you to confirm before starting the production of your order.
Begin Production
Once you have approved everything, the mass production of your packaging will begin! Throughout this stage, our product specialists will keep you connected with updates of manufacturing and shipping!